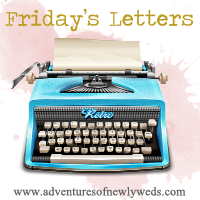 Dear Puppies
, You are currently on your way to your Aunt Patty's house for a month, and your mom and dad are feeling a little heartbroken. The next few days without you guys in the house will be a little melancholy for the two of us. We love you very much, and know that you will be in the bestest of hands. xoxo
Dear Justin
, I love how you love our pups. The way that you love my smelly, whiney, goofy, silly looking pups right along with me makes my heart swell with love. I can't even imagine how it will feel to see you as "real" dad. *It overwhelms me to think about how big my heart will have to be to fit all that love, and excites me more than anything that it's YOU that I'll be taking that adventure with.
*Disclaimer - SOMEDAY. No time in the super-near future.
Dear Office
, I only have to see your face for 2.5 more days this month. If I were being nice, I would say that I'll miss you, but no one likes a liar.
Dear Europe
, It's been about 8 years, and I've missed you like crazy, but we'll be reuniting in 5 short days. To say "I can't wait" is a gross understatement.
Dear Mosquitos
, I know I'm sweet and all, but really, try to share the love a little bit. I don't find it fair that everyone else in our group walked away unscathed, yet I have about 15 nasty, itchy, red welts on my legs. Other people taste good, too. Promise.